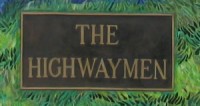 A mosaic and 26 plaques, each with a single name, on the west wall of the new Intermodal Transit Station dedicated on August 23, 2011, on Avenue D are the work of two local artists honoring the work of St. Lucie County's most famous artists, the Highwaymen.
The Highwaymen were a collection of mostly self-taught African American artists who painted and sold their work by the side of the road. Although their work has been celebrated around Florida and the U.S., the transit station mural is the first that singles out many of the individual artists. Even the Florida Artists Hall of Fame wall in Tallahassee simply says "Alfred Hair and the Highwaymen."
Local artist Pat Cochran designed the 26 bronze plaques and sand cast them, using a specific ramming technique prior to pouring the bronze. Although he knows some of the local Highwaymen well, including Charles Walker and James Gibson, he has enjoyed meeting others for the first time while working on the station mural.
"One of the most rewarding aspects of the project occurred when we were installing the art and Highwayman John Maynor rode up on his bike, exclaiming to those in the neighborhood that his name is up on that wall," Cochran said. "I am just really happy that I could be a part of this."
Cochran and mosaic artist Anita Prentice earned the responsibility of designing the Highwaymen memorial at 725 Ave. D by presenting through a competitive bid process.
Prentice's contribution was a large mosaic of a colorful Royal Poinciana tree. I agree this image is an ideal fit for the centerpiece of the project, as so many of the Highwaymen artists used this blooming tree in their own art.
"We have a history of art here in St. Lucie County and this royal Poinciana follows this history. It is truly a magical tree which is bare, then explodes with color," Prentice said.
Anita's pain-staking process involves breaking large pieces of colored glass with a hammer, sketching the image with chalk, then permanent marker, followed by laying each piece of colored glass into the right area by hand.
The six-week process for this mural is truly evident when you see it in person. I was impressed with the numerous shades of reds and how well each tiny piece contributed to the larger picture.
Many of our community members attended the official ribbon cutting of the Intermodal Transit Facility this past Tuesday. I encourage you to visit the site, too. It is a thoughtful tribute to a group of artists that has made Fort Pierce proud.
To learn more about the works of the Highwaymen, contact Gertrude Walker at GWalker0818@gmail.com or call 772-359-7178.