Patrick Cochran was born and raised in Missouri, where he attended Southeast Missouri University and received a B. S. in Art Education.
After relocating to Florida, Cochran worked in Luis Montoya's fine arts foundry in West Palm Beach for three years, where he learned the art of bronze casting. He later taught art in Jupiter, Florida and in Fort Pierce, Florida. In 1993 he opened Shadetree Studio, a fine arts foundry, where he has cast for many well-known artists.
Cochran has exhibited in Colorado, Missouri, Florida, Rhode Island, South Carolina, Washington, D. C. and New York City. He currently has two sculptures on display on Broward Boulevard in Fort Lauderdale, and a collaborative piece on the grounds of the Smithsonian Marine Center in Fort Pierce. He also has a 9-11 Firefighters Memorial sculpture installed at Digital Domain Field, the spring training facility for the New York Mets in Port Saint Lucie, Florida. Cochran's sculptures are a mix of contemporary feelings and attitudes with a humorous slant. He enjoys exploring the mixed medias of various metals and concrete.
Cochran was a member of the Board of Directors of the A. E. Backus Museum and Gallery from 2000-2014. He resides in West Palm Beach, Florida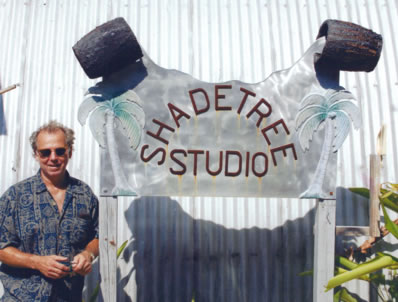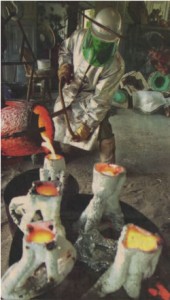 Pat Cochran Pouring Bronze